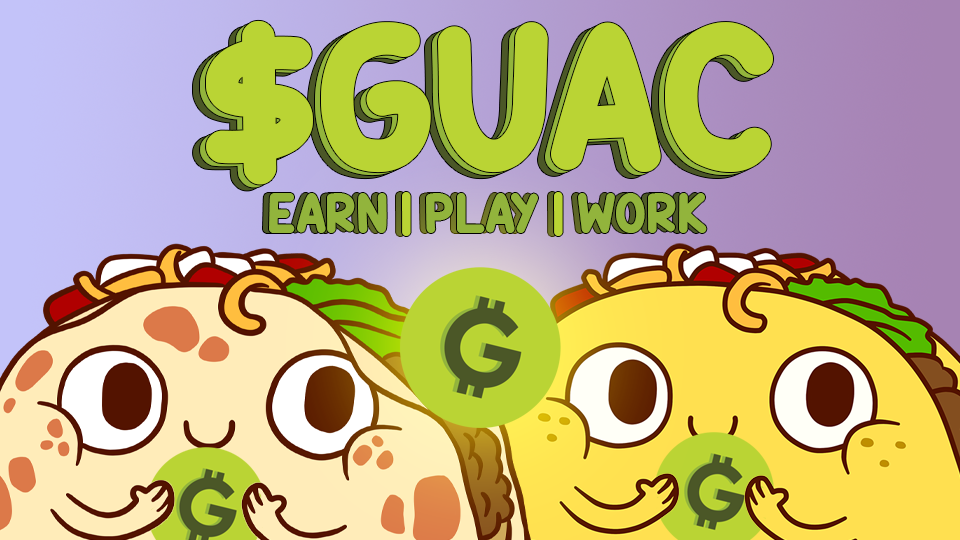 $GUAC is a Taco Tribe discord currency where you can work, play and earn $GUAC if you are a Verified NFT Hodler on our Discord server!
$GUAC has also been deployed as a Polygon token that will be used in our staking dapp.
More info on how to start earning $GUAC can be found on our Discord.
Use these following commands in the '🥑・get-the-guac' Discord channel.
GAMES - Many fun games allow you to earn $GUAC, these include:
/dice - /guess - /rps - /roulette
WORK - Gain some extra $GUAC by using the '/work' command.
Only holders with 5 tacos or more are allowed to work.
DAILY - You can claim $GUAC everyday using the '/daily' command.
POSTS - If you post on Twitter using the '🛕・gifs-templates' or in your own words, you can claim 300 $GUAC a day. (After posting please '🎟︱open-a-ticket' & send the post URL to redeem!)
RAIDS - If you show your support on '⚠・twitter-raids' when they are posted by admins, you will be given 300 $GUAC. (After posting on the raid please send a screenshot of your post reply in the '⚠・raid-proof' channel for confirmation!)
What can I do with $GUAC?
For now $GUAC can be redeemed for Discord roles, NFTs & physical items! Check out out discord for more info! Currently the future use of $GUAC token on the Polygon blockchain is still in development.