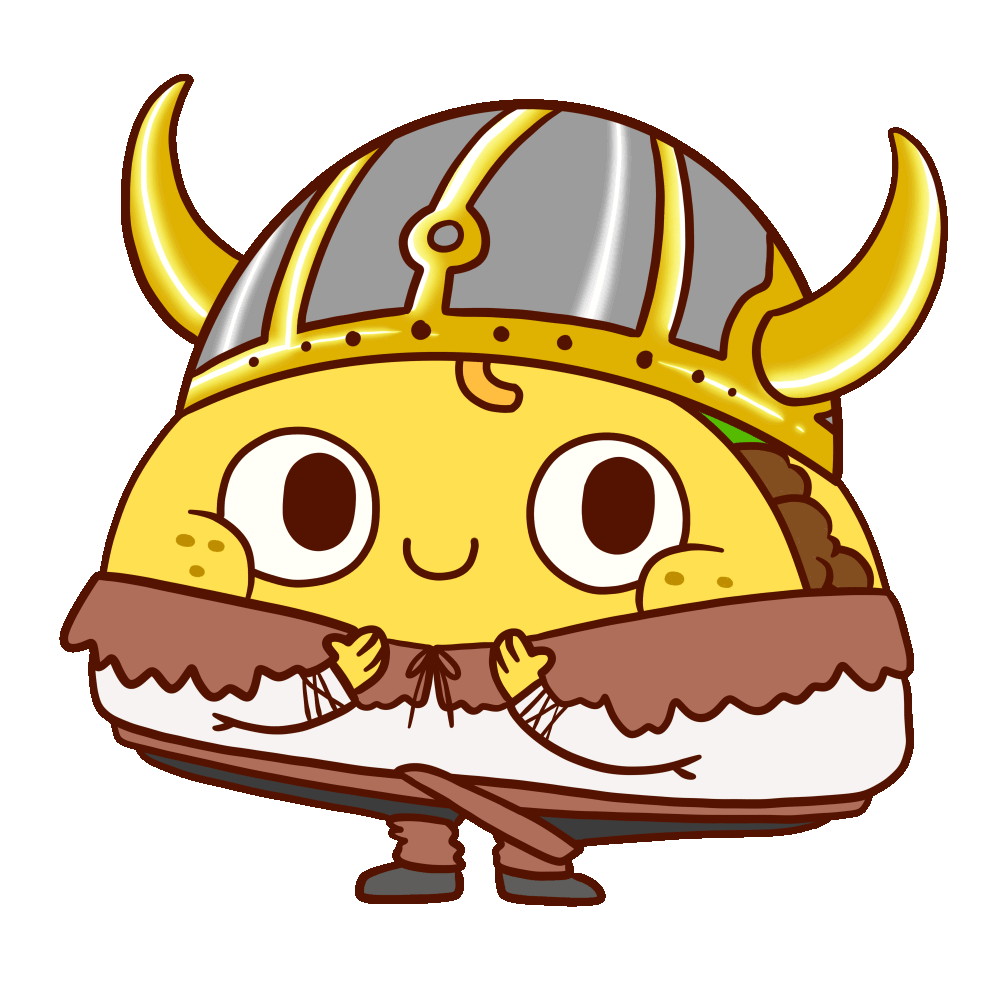 Taco Tribe is a collection of 8,226 NFTs generated on the Polygon blockchain. Over 600+ assets are used in the collection & more assets added every 2000 tacos.
Mint price is 15 $MATIC.
20% of all initial taco sales will go towards the research & prevention of Alzheimer's Disease.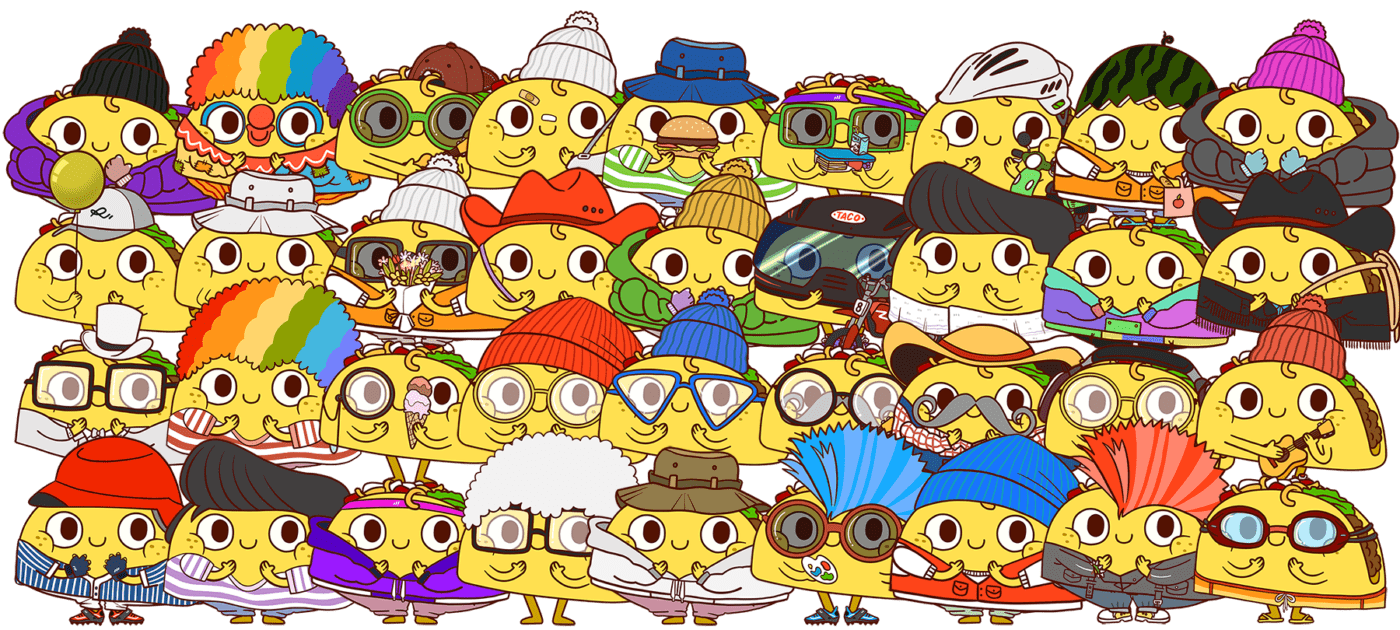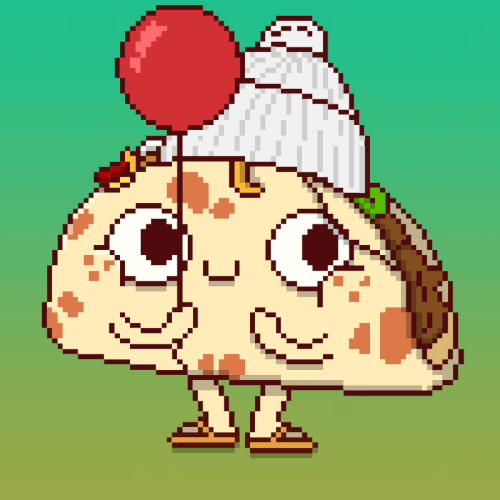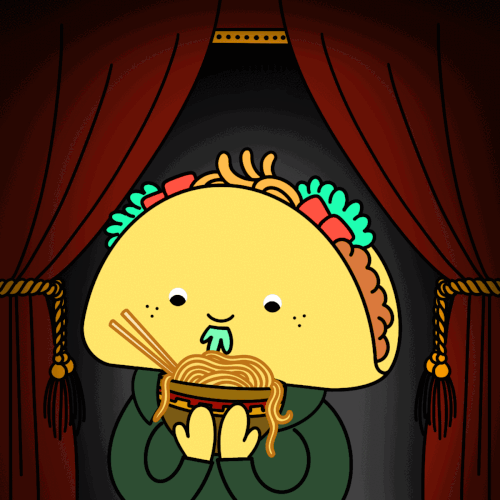 Who created the Taco Tribe?
The Taco Tribe is a solo project originally established as a personal brand way back in 2012 and the taco character created in 2015. Created by HelloRyanHolmes.
When did Taco Tribe launch?
The OG Taco Tribe collection launched on October 14th, 2021.
The Taco Tribe smart contract collection launched January 7th, 2022.
What's the difference between the OG and Smart contract collection?
The OG collection was uploaded directly to OpenSea and it hindered our growth. The OG collection is currently not being worked on and our focus is growing the smart contract collection and community.
Oh, you deserve some extra guacamole! But in the meantime, you can grab your own Taco by going to our mint page, on the secondary market on OpenSea or our very own $GUAC Market.
We are featured on RankNFT.io & Polyrare currently. You can go and check out the rarest tacos and check the rarity of your specific taco! Alternatively you can check on Discord. Rarities of tacos are subject to change as more collaborations are added to the collection.
Do I have the rights to my taco?
Commercial Use: Taco Tribe grants you an unlimited, worldwide license to use, copy & display the purchased art for purpose of creating derivative works based upon the art. As long as you hold the taco in question you have full commercial & personal rights to use that taco however you see fit.
How and why would I burn a taco?
Introducing the Taco Tribe Burn Wallet.
Burn 2 tacos from the current smart contract collection or 5 tacos from the OG collection & get a fresh taco mint. This burn wallet can be found here.
What does burn mean?
Burning is essentially transferring tacos into a wallet that will never use, sell, transfer or touch them in anyway until the end of time...or the internet.
Why burn a taco?
This will deflate the OG & current smart contract collection's total supply essentially making the remaining tacos "more rare."
The OG collection is basically stagnant & a reminder of where we started. You can burn 5 of them for a current smart contract taco.
In addition you may not like the current smart contract tacos you have. So you can burn 2 of them to get a new one to try to get one you like or possibly a rare mint. This is basically a gamble.
This burning mechanism is there for who wants it, you DO NOT have to burn a taco ever if you choose. If you would like to burn some tacos please open-a-ticket on Discord & discuss it with me first.
$DGUAC is a Taco Tribe discord currency where you can work, play and earn to receive $DGUAC if you are a Verified on our Discord. More information can be found here & on our Discord.
It has also been deployed as a Polygon token that will be used in our staking dapp, you can find the token info here.
20% percent of the initial sales of each taco will go to the Alzheimer's Association for the research and prevention of Alzheimer's. We have reserved the option to mint tacos for giveaways and contests. The remainder of the tacos are all for sale. Our charitable donations can be found here.
Why so many changes to the project?
We are ever-growing and evolving to fit the landscape. We are not going anywhere and are preparing for the long journey ahead. You can check out our roadmap for insight onto what we want to achieve in the future. I hope you'll join us! Check out our roadmap here.